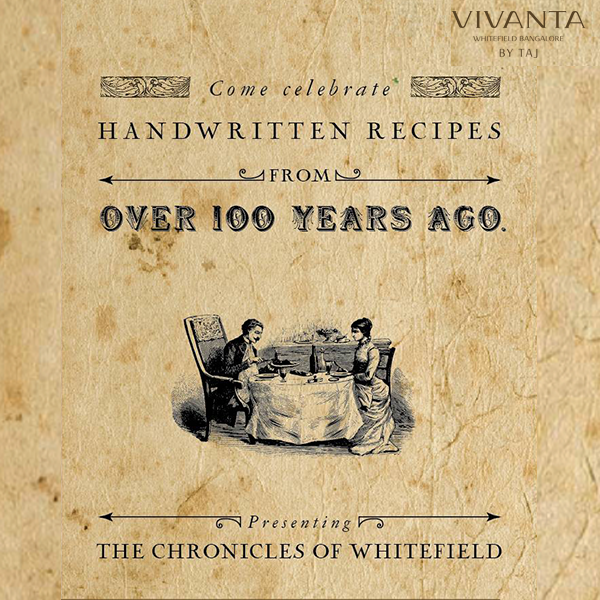 Listening to the tales about the lone Anglo Indian family in Whitefield, the tattered but precious 108-year-old manuscript filled with recipes that were handed over to Chef Arzooman Irani, I felt transported to the era. It was a memorable journey indeed.
"The deciphering of the handwritten recipes in the notebook was the only challenge we faced while bringing back to life the dishes mentioned in it. It was the family recipe book handwritten by Harry Blake, one of the original settlers of Whitefield near Bangalore. The notebook was handed over to us by his granddaughter,

," Arzooman Irani, executive chef at Vivanta by Taj-Whitefield Bangalore shared as I sipped on my ginger wine- it was commonly had back then as fresh ginger was so abundantly grown in the farms as well as in kitchen gardens, the ladies of Whitefield used to make it in barrels and bottle it, which was served before the meal

[it is a non alcoholic drink with slivers of ginger that catch you by surprise]
I was at Vivanta by Taj- Connemera where the Chronicles of Whitefield food festival was on [22
nd
to 31
st
Aug]. And along with this, they had also launched their whole new range of cocktails- "Vivanta Colonial Hangover".
These Cocktails were a fine blend of European Spirits and Indian Spices, all of them blending in perfectly, complimenting each other! I got to try the Earl Of Raj (earl grey tea, Gin , cinnamon, cardamom, sugar syrup, lime juice and bay leaf)- it had subtle undertones of the tea and was beaming with the spices; then there was the delicious Herbal Mary (Vodka with parsley, celery, ginger, tobacco sauce, Worchester sauce, tomato juice, Lime juice and salt/pepper)- am speechless, it was just amazing- spicy, tangy and not the tomato was underplayed. Oh not to forget, the Madragas Lemongrass (an unforgettable fusion of Vodka with lemon, lemongrass and pineapple and Sauvignon Blanc), and Good ol Colonel [Whiskey, sesame seeds, honey, fresh pineapple, lemon juice and pineapple juice as well]. The showstopper of them all, the Colonel Syllabub-it was the best of them all- sweet white wine, cream, sugar syrup, egg white,lime juice and cardamom. It was smooth, sweet and just blew me away! These will go into their Cocktails menu and are available on a regular basis [they also serve non-alcoholic versions of a few of these]
As for the Chronicles of Whitefield menu, it narrated a story, all of which were from Harry's notebook. Each of the dishes had unique flavours, were simple yet packed with flavour. They were all told the tale of the city's past, and were made with local ingredients with foreign cooking techniques.
The meal opened with mulligatawny soup - a broth made with lentils and pepper. The surprise element from Blake was giving it a fruity twist by adding finely cut apples. It not only added to the texture, but added to the flavour as well.
For the main course, Irani offered rice varieties – coconut rice and tomato rice served alongside vegetable stew, a mushroom & potato gravy and mix veg gravy. For the non veggies, they got mutton ball curry, country captain chicken curry and Blake's signature dish - Harry's fish curry.
The vegetable stew was similar to the one from kerala but was milder and mellow. It was just divine with the coconut rice. The tomato rice on the other hand was near bland, quite different from what we are used to. Irani told us that this was how the dishes were prepared and he had decided to follow the recipes to the dot.
And when it came to desserts, we were offered a platter- sooji pudding with hint of cardamom, the absolutely amazing coconut pudding and kulkuls[ these are like little biscuits rolled similar to gnocchi]. We loved the coconut pudding, the thin puff pastry base and lovely cake on top.
The Chronicles of Whitefield are available for Lunch and Dinner [a la carte] from 22nd to 31st Aug at Vivanta by Taj- Connemara.
A meal for two should work out to about Rs3000 [with alcohol]
For more details and reservations contact
+91 44 66000000
The reviews posted on this blog are based on my personal experience. Also remember these were just my views!! Remember, no two palates are the same. Bon Appétit :-)