It was around 8 when I landed in San Francisco, picked up my suitcase and was waiting for my broinlaw and niece. Once they arrived, we piled in my bags and he announced we were gonna drive around the city, do some touristy things, grab breakfast and then head home around noon. I was happy, but my niece was not too kicked [ I guess it gets boring after a point when you get dragged around to the same places over and over again...]but she was a sport and came along :)
We headed straight to Lombard Street [ or crooked street, drove down the zig zag roads- quite exciting, thrilling and scary at the same time], parked the car on the lane across from it and went up the steps along the Lombard Street. Up we went one by one, they are steep but not tiring. And then we came down.. By this time, hunger bells began hitting our tummies. My broinlaw suggested we head to 8am for a bite, since it was rated as #1 on yelp. Since it was literally just a few blocks away, he suggested we walk.
Walking is no problem, but the streets in San Francisco are either going all the way upwards or downwards... So either ways, you have to make an effort to keep going.. This one was downhill, and so going towards it was gonna be easy but coming back up with full tummies ,now thats another thing... We walked,cracking random jokes, commenting on places along the way and the biggest joke was we reached Eight am at 9am, and left there around 10am.. :D
Its a small cafe of sorts and looked like a popular one as the place was packed. They have few tables indoors and some outdoors as well. We had to wait a few minutes for a table, and got to sit outside. The weather was beautiful- chill and bright. The buildings around were either hotels or libraries, & museums. We spotted quite a few walk by with dogs, one such group took the table next to ours.
Getting down to business, me & broinlaw ordered Frittatas - I chose Haight Ashbury [mushrooms, onions, tomatoes, bell peppers and swiss cheese], while he chose Castro [chicken apple sausage with Manchego cheese, only egg whites], and my niece went for the Crepe-called 9am [ fresh strawberries, cream cheese and chantily cream]
Along with our breakfast, we also asked for coffee -black, decaf and strong is how it was. Milk here is optional as is everywhere else in the country and comes in little pockets referred to as "creamer".
Our Frittatas were served with a bowl of fruits and a side of baked sweet potato+potato as well. It makes it quite the filling meal. We enjoyed the view, the food and left there in about an hour back towards the car... Huff puff up the hill, me lugging my backpack [that had laptop, camera and few other valuables*]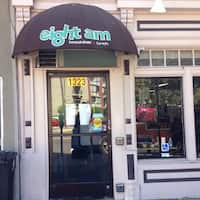 * I was lugging my backpack cos the city is renowned for thefts and my browinlaw suggested I remove anything valuable from the car and carry it with me!! There are enough sign boards that scare you about the same...