Well, if you are wondering what "Tuscanala Thali irukku theriyumo nokku... " means, then let me clarify that before proceeding.. "Tuscana has Thali now did you know?"
Tuscana
for us is synonymous with Italian,
It is synonymous with thin crust pizza
it is where we tasted the 1st Gluten free pizza
It is where we tasted Tiramisu and Panna cotta first..
It is a place that has done a lot of firsts in Chennai..
Here is a brief glimpse into a few of the dishes served there. Pizza, Pasta, bell peppers& Mozzarella and then there was the Zucchini Mozzarella fritters as well.
Their extensive dessert section houses the infamous Panna cotta, lemon cheese cake, Tiramisu and a pizza with chocolate sauce, nutella and bananas as well.
But the one thing you dont think of when I say "Tuscana" is Thali concept or Jain food.
And that is something they have newly introduced!!
The obvious questions that arise are
"Really?"
"What is a Thali doing in an Italian restaurant?"
"Why are they serving Jain food?
"Will it work?"
There is just one answer to these questions!! Just go there and try it out, you will see it actually works and makes sense.
I walk into Tuscana and as always this guy greets me at the entrance. Walking up the winding staircase, we make our way to the table reserved upstairs in a cosy room [ideal for small groups or a private dinner]. And then we are presented with a menu that has not one but 5 Thali options in it. 2 for veg and 3 for non veg . And they offer quite a variety.
A Thali is an Indian concept, where the entire meal is placed in one plate in small cups/bowls. You would have everything from the starter to main course to the dessert in that one plate. It is another name for a set meal :-) In some places it is bottomless thali [where you get unlimited servings of all the dishes] and in other places it is a set quantity [and in these places the portion sizes are good enough, you wont even think about going for a 2nd helping]
While I opted for the 2nd Veg Thali, another fellow vegetarian chose the 1st one and another friend opted for the Non veg Thali with chicken as the main dish .
All the Thalis have a soup, a salad, a few slices of garlic bread [w/wo cheese], a main course, and a dessert. The Thali I chose had Tomato soup, Garlic bread, a fresh crunchy salad with slices of pears and the main course was Eggless crepes filled with baby corn, mushroom and parmesan and finally, the dessert [which was the reason I chose this thali]- Apple pie with vanilla sauce.


Priced around Rs600 = tax, these thalis make for a good sumptious lunch on a day when you are slogging away and suddenly realise you are hungry. I must hand it to the Restaurant, they do come up with innovative concepts!!
If you still dont believe me about the Thali, check out the ad they released to announce the same..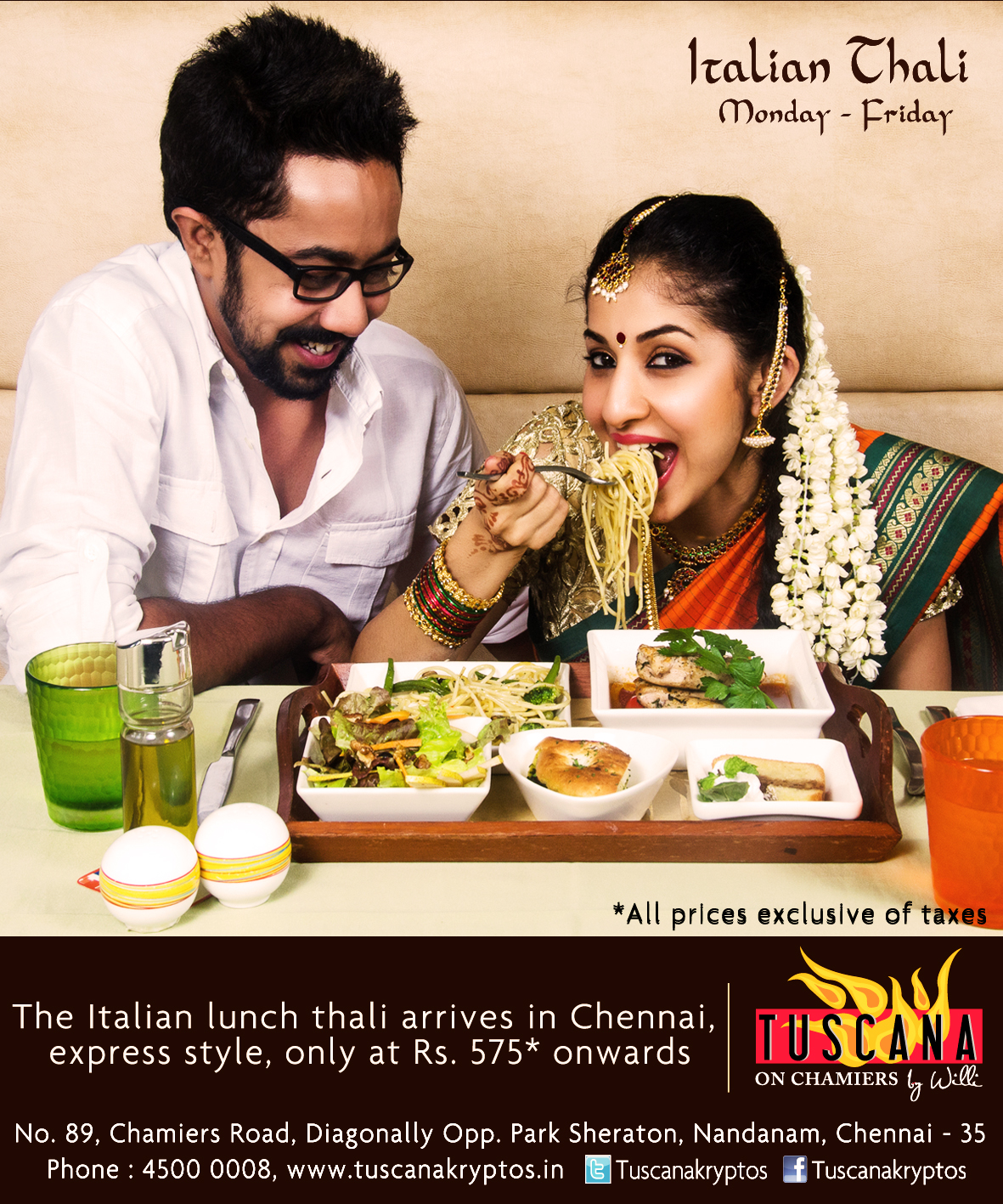 Address:
Tuscana Chamiers
No. 89, Chamiers Road, Opposite IN Gate of Park Sheraton, Nandanam, Chennai-600065
To Book a Reservation - Contact : 044-45000008
Disclaimer:
The reviews posted on this blog are based on my personal experience. Also remember that restaurants and eat outs sometimes change with time, so does their food and service. So, kindly consider these factors while visiting the places. Remember, no two palates are the same. Bon Appétit :-)